SPINAL CARE
Imagine living without pain and limited range of motion in your neck and back. The truth is this is achievable for people of all ages and all degrees of injury. Together, the neck, upper back, and lower back form a complex system of muscles, tendons, small joints, bones and nerves. With so many different parts doing so much work, things can sometimes go wrong—and when they do, the first signal is pain.
Key parts of your spine include vertebrae (bones), disks, nerves and the spinal cord. The spine supports your body and helps you walk, twist and move. The disks that cushion vertebrae may compress with age or injury, leading to a herniated disk. Exercises can strengthen the core muscles that support the spine and prevent back injuries and back pain.
THE SPINAL COLUMN IS THE MASTER CONTROL SYSTEM OF THE BODY.
Our spine specialist will offer personalized diagnostic and innovative treatment options, including minimally invasive and traditional approaches, for patients with disorders of the spine.
Our mission in Sports & Orthopedic Center is to help you manage your pain and get back to your physical activities as quickly as possible.
CONDITIONS WE TREAT: Our Spine Board Certified Surgeon uses minimally invasive and non-surgical treatments for these spine and back conditions.
      – Neck pain
      – Back Pain
      – Spondylolisthesis
      -Facet Disease
      – Pinched Nerve
      – Spinal Stenosis
      – Sciatica
      – Spinal instabilty
      – Spondylolysis ( a defect in vertebrae)
      – Fractured vertebra
      – Herniated disc
      – Spinal stenois (narrowing of spinal canal)
      – Nerve compression syndrome
      – Motor vehicle accident
      – Personal injury.
MINIMALLY INVASIVE SPINE SURGERY.
As opposed to open spine surgery, minimally invasive surgical approaches can be faster, safer and require less recovery time. Because of the reduced trauma to the muscles and soft tissues (compared to open procedures), the potential benefits are:
Better cosmetic results from smaller skin incisions (sometimes as small as several millimeters)
Less blood loss from surgery
Reduced risk of muscle damage, since less or no cutting of the muscle is required
Reduced risk of infection and postoperative pain
Faster recovery from surgery and less rehabilitation required
Diminished reliance on pain medications after surgery.
PROCEDURES OUR SPINE SPECIALIST OFFER AT SPORTS & ORTHOPEDIC CENTER
      – Radiofrequency ablations
      – Kyphoplasty
      – Sacroiliac joint fusion
      – Bone stimulators
HOW CAN I KEEP MY SPINE HEALTHY?
Strong back muscles can protect your spine and prevent back problems. Try to do back-strengthening and stretching exercises at least twice a week. Exercises like planks strengthen the core (abdominal, side and back muscles) to give your spine more support. Other protective measures include:
Bend your knees and keep your back straight when lifting items.
Lose weight, if needed (excess weight strains your back).
Maintain good posture.
Common Orthopedic Conditions & Injuries
Minimally invasive spine surgery.
Compression fracture treatment (Outpatient Kyphoplasty)
Biologic therapeutic injections.
Epidural steroid injection.
Radiofrequency ablations.
Disc herniations.
Sciatica.
Sacroiliac Pain / Sacroiliac joint fusion.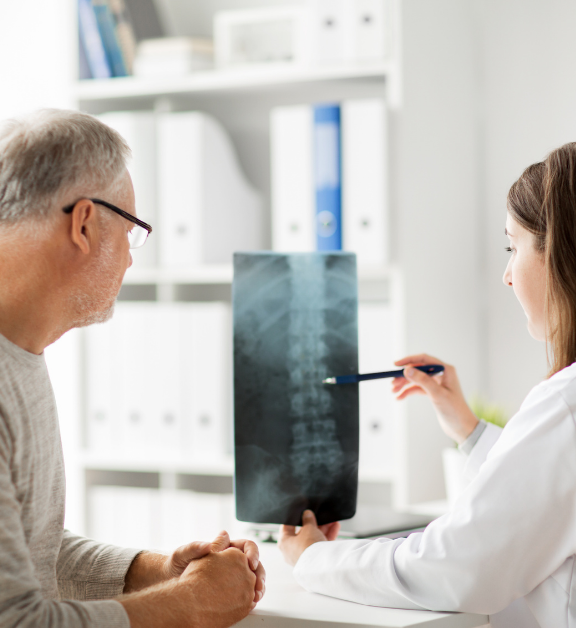 CALL US TODAY!
954-481 9942